You're engaged, your venues are booked, and now you're looking to tick the next big item off your list: wedding photography. There are so many factors involved in choosing the right wedding photographer for your big day, from style, to experience, to how well-recommended they are. In this article, I'll help guide you through the task of finding your perfect wedding photographer.
Is your wedding photographer a nice person?
If you think about it, your wedding photographer will spend more time with you than even your family on your wedding day. They'll be there in your most intimate moments of getting ready and at the wedding ceremony, will guide you through your location shoot, and will be close to you when capturing the moments and expressions at your wedding reception.
Having a good rapport with your wedding photographer is crucial; no matter how great your photos are, when you look at them you will remember the feeling and experience of having that photograph taken – good or bad.
You can get a sense of their personality from their Instagram stories, which tend to be more raw and unpolished. I also often post "behind the scenes" photos and videos on my Instagram stories which gives you insight on how we work at an actual wedding.
If someone you know personally has used the wedding photographer you're researching, ask them about what the experience was like: from the first meeting, through to how they were on the day and to the delivery of their albums and photos.
Another way to get comfortable with your wedding photographer is to book a pre-wedding shoot.
Strong reviews – what were the experiences like of past clients?
Thanks to Google, Facebook and Instagram, it's never been easier to get honest, authentic reviews of the wedding photographers you're considering. Type the name of the studio into Google to see their Google reviews, check out their Facebook page, and look through the comments of their Instagram posts to see what the brides and grooms have written under their images.
I personally love sharing positive feedback from my couples, and if you visit my Instagram profile and tap the Reviews highlight, you'll see dozens of actual screenshot reviews. I'm also very proud of our 5-star ratings on Google and Facebook.
You can of course also ask your friends and family who have been married who they used, and even ask to check out the wedding album from their photographer so you can see how they tell a story.
Can your wedding photographer work in challenging conditions?
Anyone with a camera can take beautiful photos if the lighting is perfect, they have an hour to get the photo just right, and have amazing scenery in the background. However the reality of a wedding day can be very different! Wedding photographers have to work to very tight time lines, and deliver beautiful photos in harsh midday sun and pouring rain.
When choosing a wedding photographer, make sure you don't only judge them based on their "wow" photos. Insist on seeing full weddings that they've photographed, photos in the rain, at night, at high noon etc. This will give you confidence that your wedding photographer can capture great photos no matter what the conditions.
Do you need two photographers at your wedding?
Unless you're having an intimate wedding and reception with less than 100 guests and a small (or no) bridal party, I would strongly recommend having two photographers at your wedding. Here are a few reasons why.
You will have the groom's and bride's getting ready photos captured at the same time (one at each house)
One photographer will focus on the "traditional" photos during the ceremony (ring exchange, kiss, family photos) while the other captures the more unusual, creative photos (photos of the whole church from the balcony, photographing the bride through the candles or bouquets etc.)
While the main photographer focuses on capturing the ceremony, the second photographer takes photos of your guests enjoying the ceremony, including special little moments like mum shedding a tear, or a hug between old friends.
At your location shoot, one photographer focuses on photos of the bride and groom, while the other takes some fun and quirky photos with the bridal party.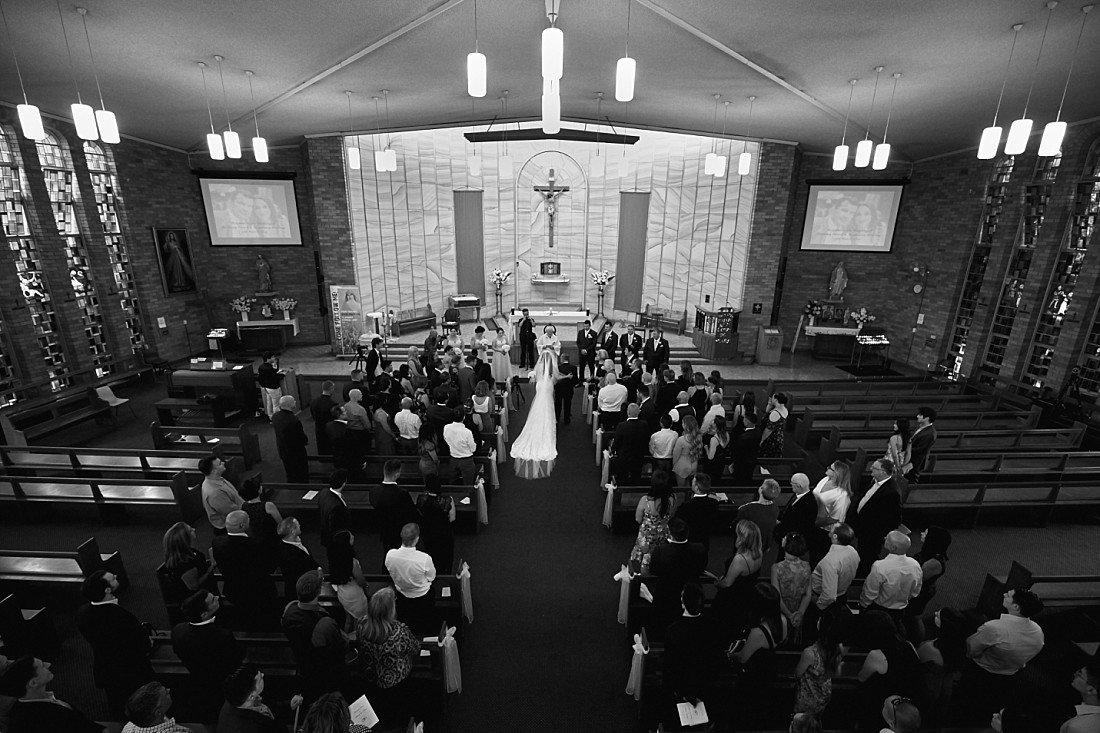 Does your wedding photographer have experience with your culture?
From the blessing of the wedding rings at a traditional Catholic wedding ceremony, to the reverent Chinese tea ceremony, to the tying of the sacred thread at a Hindu wedding, it is crucial that your wedding photographer has knowledge and experience in capturing these rituals.  Many of these rituals happen very quickly and without warning, and an experienced wedding photographer will be able to anticipate and be in the right place to capture them.
When researching your wedding photographer, make sure you seek out blog posts featuring these moments, and ask to see a proper wedding album when you meet them in person. You can view hundreds of weddings of all different cultures that we have photographed over on the blog.